Polygomma EPDM Strips for Facade Waterproofing
The building facades are subjected to a range of external elements such as rain water, moisture, UV, humidity, etc. Thus the waterproofing system used for the façade needs to be durable to withstand these conditions. Moreover, the façade waterproofing systems needs to be long lasting and should require minimum maintenance. Polygomma EPDM Strips are used to waterproof and air seal facades, and also to protect against water and moisture. They are also used as a Damp Proof Course (DPC).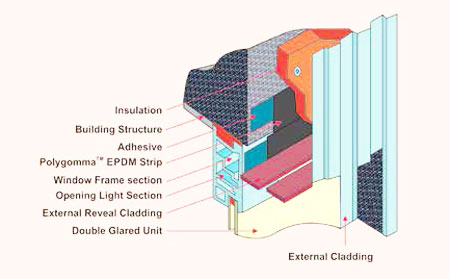 Resists UV, Ozone, Water, Moisture and general pollutants.
Ageing over a period of time is negligible, due to its cross linked structure.
Can resist and perform well in temperature ranges from –40°C to 150°C.
Elongation of over 300%, and thus can sustain thermal and structural movements of the building.
Resistant to withstand chemical and toxic conditions.
µ value of 54,000. Tested as per ASTM E96-16 - Standard Test Methods for Water Vapor Transmission of Material.
Available in pre-cut sizes to facilitate quick and easy installation.
Special grade of EPDM strips are fire retardant.
EPDM strips are available from thickness of 0.6 mm to 2.0 mm (single-ply). Pre-cute widths from 0.05 meters onwards.