Oct - 24
2018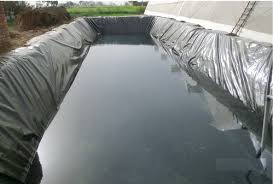 EPDM Geomembranes – An Overview
Geomembranes
When a company like Polygomma manufactures a significant product like Geomembranes, quality and durability are never questioned. They come as a part and parcel of the product on which companies using them can rely upon. Polygomma stands out in this segment and goes on to manufacture the single ply membranes, also known as geomembranes, produced from Butyl, Hypalon, and EPDM.
While there is a lot to talk and portray about the entire geomembrane stream of Polygomma, there are certain specific and noteworthy features of the company's EPDM geomembranes. This article discusses some of them.
Prime and Advantageous Properties of EPDM Geomembranes:
Polygomma's EPDM geomembranes are by and large used in companies which are required to store chemical and toxic waste. In this endeavor, prime properties of EPDM turn out to be pivotal. Some of them are worth a view:
Flexibility is one of the foremost expected features in geomembranes and EPDM best meets this requirement.

EPDM is a highly preferred, secure and user-friendly lining material all over the world and that is another prerequisite when geomembrane is made from it. Unlike other materials, EPDM is better off in complementing varying surfaces and altering slopes.

EPDM also perfectly fits the application in case of assorted sizes of a panel. Hence, geomembranes made from EPDM are a versatile answer to whether a small requirement for 8 by 10 feet panel or a larger project with 50 by 200 feet panel size.

It requires less frequent maintenance and so the maintenance cost of EDPL geomembranes is quite low. Even when needed, repairs can be quickly incorporated.
Polygomma Range of Geomembranes
There is a really diverse consumer segment of geomembranes and that is the prime reason a company like Polygomma manufactures an equally large gamut of geomembrane variants.
To meet the storage needs of different companies which typically use the geomembranes in pits where chemical or toxic waste is stored, Polygomma manufactures membranes of various thicknesses and different lengths. This large range appropriately meets the differing demand and at the same time, retains the quality and genuineness to an optimum extent.
Polygomma manufactured geomembranes have many applications as well. Apart from industrial waste pits where they are profoundly used, their prevalent application in landfills is equally remarkable. The company enjoys special standing making rubber lining best suited for corrosive chemical ecosystems and its geomembranes too are highly in demand in the chemical manufacturing sector.